Please note that we hold stock (unpaid orders) for 60 minutes. When the time has expired, then pending order will be cancelled immediately, automatically.
Cash Payment
You can make your cash payment upon ordering over the counter at our retail store or upon the collection of your order. For online order that opts for cash payment, a 20% advance payment via bank transfer is required to secure the purchase while making the balance payment in cash upon collection. As such, the order has to be collected within 5 business days.
Cash payments can only be made in SGD. We do recommend clients to change their USD to SGD at money changers before dropping us a visit as they would provide better and more competitive rates.
PayNow
​At PayNow transfer screen, you can key in our UEN number or scan PayNow QR Code
UEN: 201107187
Recipient: GoldSilver Central Ptd. Ltd.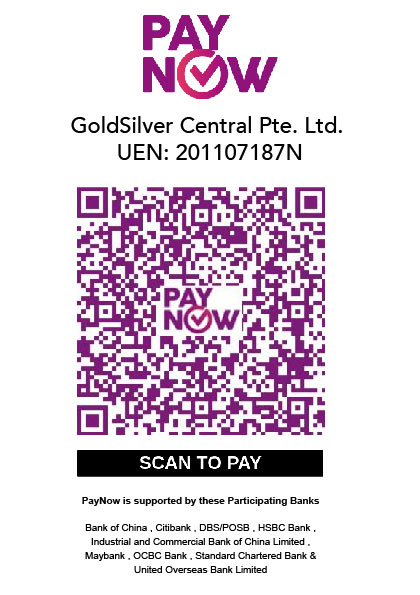 NETS Card Payment
​You can make your NETS payment at our Retail Store. There will be an additional surcharge of 0.9%.
​
Internet Banking/ Personal Cheque and Cashier's Cheque/ Telegraphic Transfer
Internet Banking
You can make your payment via Internet Banking (Online Bank Transfer) to our Corporate Bank Account. Please select the Fast and Secure Transfer (FAST) method if you are transferring from other banks other than UOB or DBS.
​
Personal Cheque and Cashier's Cheque
Kindly send us a picture of the cheque within an hour after the order is placed as the payment proof. For Personal Cheque, we will need up to 3 business days to clear the cheque before we can release your order to you. Please issue a crossed cheque to GoldSilver Central Pte. Ltd. 
For Cashier's Cheque, we will honour it as cash so you may pick up your items upon the Cashier's Cheque payment.
​
Telegraphic Transfer
You can make your payment via Telegraphic Transfer to our Bank Accounts. The full details can be found below. Please take note that the confirmation will take several working days depending on your bank and any Telegraphic Transfer charges will be borne by the remitter. 
​Here are the bank account details:
​FOR PAYMENT IN SGD
​UOB SGD Current Account
Bank Name: United Overseas Bank
Singapore
Name of Branch: Head Office
Bank code: 7375
Branch code: 001
Bank Swift code: UOVBSGSG
Account Number: 433-366-0274
Account Name: GoldSilver Central Pte Ltd
​DBS Corporate Multi-Currency Account
Bank Name: DBS Bank Ltd
Name of Branch: South Bridge Branch
Bank code: 7171
Branch code: 010
Bank Swift code: DBSSSGSG
Account Number: 010-903558-3
Account Name: GoldSilver Central Pte Ltd
​
FOR PAYMENT IN USD
UOB USD Account
Bank Name: United Overseas Bank Singapore
Name of Branch: Head Office
Bank code: 7375
Branch code: 001
Bank Swift code: UOVBSGSG
Account Number: 352-930-242-6
Account Name: GoldSilver Central Pte Ltd